How much does an automatic gate cost?
The first question many of our customers ask when enquiring about an automatic gate is, "how much does an automatic gate cost?"
While this is a valid question, it is hard to give an exact price. Automatic gate openers can range from a few hundred dollars up to thousands for residential gate motors. There are a number of considerations when looking at your gate automation.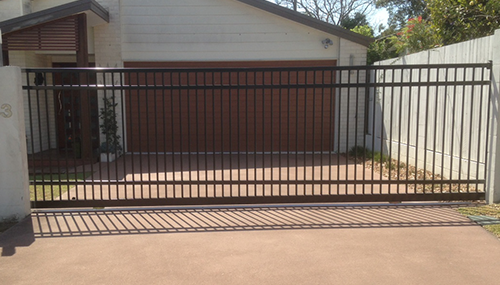 1. Gate and Automation
Depending on how much ground work is required to start with, could considerably increase the price of setting up a driveway gate with automation. Everything from posts, concreting, fall of the land, space required, personal requirements, power type for automation eg. if electric then an electrican may be required and if installation is also needed.
2. Gate Automation only
If you already have an existing gate, then installing automation may be all that is required. This may include a replacement of an existing automatic gate opener or the installation of a new one on a gate that was previously used manually. If you have an existing gate then automation may be able to added to it, however it usually requires a few checks before knowing if it can be truly automated.
3. Swing or Slide Gates
When it comes to gate automation, both swinging gates or sliding gates can come with their own set of challenges, therefore adding to the price. Sliding gates will require track to be bolted down across the driveway, this track has to be precisely positioned on a flat surface to function correctly. Usually sliding gates are commonly installed on properties that have a small frontage area or near a main road where it is not functional to have a swinging gate.
Swinging gates are required to have well secured posts, excellent hinges that aren't binding and a well hung gate that is plum with your posts, level and not dragging along the ground. Your swing gate should also not be assisted with a wheel when adding automation.
4. Driveway Gate
Once you go from a single gate to double gates or large sliders, then the more expensive they will be. Some driveways will require two gates to suit their opening, while others require larger gates – maybe for security or maybe because the driveway is too large. Another factor is the gate design, do you require something more enclosed for privacy or will you be happy with a design that is open and wind friendly. Your automation choice will also come down to your gate design depending on weight and wind resistance.
5. Power Options
There are a few power options when looking at automating your gate. First is electric, this power option is avaialbe in either 240volt or DC low voltage. The 240volt option will either require a pyshical power point at the gate or hard wiring the motor back to your mains. Either of these will require the extra cost of an electrician.
The DC low voltage option will have a transformer that will require a physical power point which can be up to 50mtrs away from the gate itself, then low voltage cable runs directly down to the motor. The beauty about the DC option is unlike the 240v requiring cable to be placed 600mm under ground and an electrician, the DC only requires 100mm under and no electrician.
The last option is solar. Solar is perfect for those spots that you can't run power to and also cutting down on the cost of an electrican as one is not required. What you do need to keep in mind with solar is it's positioning. If you do have a lot of trees around your front gate then you may need to reconsider your power option, add a second solar panel (or larger solar panel) or add a bigger battery.
6. Price Range - Residential
Depending on the above factors your typical automatic gate opener can range from $700 upwards.
If you require both gate and automation this will generally start from $2000 upwards.
When adding installation to the above prices a good starting point would be around $700.