MANUFACTURERS RECOMMENDATIONS AND COMMENTS
For optimum range it is advisable to place the receiver a minimum of 2 metres vertically away from the gate motor e.g. top of gate posts.
When placing the receiver outside of the control box or motor housing it is important to use a weatherproof box with all entry points sealed. The standard receiver housing is only splash proof and not suitable for outdoor applications. **
Make sure there are no exposed wires outside the receiver.
Placing the receiver inside the motor housing will reduce the range of the receiver when the motor is in operation.
Range may be affected by signals transmitted from another source.
When coding remotes for use in a complex it is recommended that all remotes be physically numbered and a record be kept.
* All dependent on line of sight to the gate and interference which may reduce expected range. DO NOT ALTER THE ANTENNA IN ANY WAY (TUNED LENGTH ANTENNA)
** Warranty will void if the receiver housing has been placed outside and not in a recommended weatherproof box.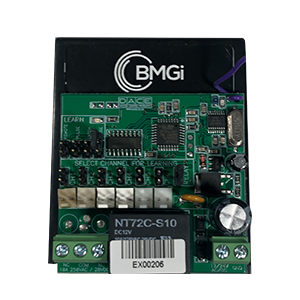 Tuning a wireless push button
Tuning a remote