Long Range Receiver (Previous Model)
This receiver will have a Green Antenna
PROGRAM REMOTES TO THE RECEIVER
Press and hold remote button that is to trigger the opener. It is important that this button is continuously held from step 1 through to step 3.
Place the jumper over the two LEARN pins on the PC Board for 2 seconds.
Remove the jumper from the two pins.
Release the button on the remote.
That particular button on the remote is now programmed to the receiver.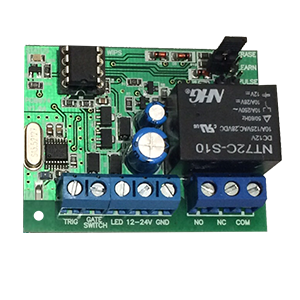 ERASE ALL REMOTES
Place the jumper across the two ERASE pins
The LED will flash 4 times to warn you that the remotes will be erased after which the LED will stay solid red
When the LED remains on solid, all the remotes have been erased
Remove the jumper
Tuning a remote to the long range receiver Green Antenna
Tuning a push button to the long range receiver Green Antenna