Auto Gate Openers
E8 Swing Gate Openers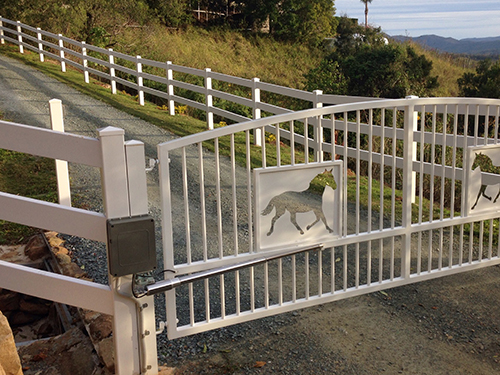 Slide Gate Openers
There are many types of automatic gates to choose from, its just knowing which one will suit your application!
Having your gate open automatically will not only allow you to enter or leave your property quickly, but will also provide secure and reliable protection of your property that safeguards against potential intruders. With solar and electric gate opener options available you will have the choice of an opener to suit your requirements.
Electric slide gate openers - low voltage
Electric slide gate opener - AC
Solar slide gate openers
Electric swing gate openers - low voltage
Solar swing gate openers
Slide Gate Openers
Sliding gates are an excellent choice for residential gate automation especially when driveway or size limitation is a factor. Because sliding gates are much more difficult to force open, they offer added security and you can go with a fully enclosed option too.
A sliding gate for large openings is also a good choice if you are looking for a cost-effective gate opener, since there is only a single motor required.
They require a long and narrow space for the gate to slide along during the opening and closing phases. This type of driveway gate is the ideal protection for wide entrances, entrances placed uphill or wherever the space inside the property is not sufficient to enable the opening of swing gates.
Whenever you have to choose the ideal motorisation you need to consider the weight, gradient (if any) and the length of the gate.
Our automatic gates are equipped with a safety feature during the closing phase: the anti-crushing/obstacle detection function stops and reverses the gate in case its movement is blocked to avoid damage to people and objects. We highly recommend installing photocells or safety beams for added safety on your sliding gate.
Swing Gate Openers
Available as single or double driveway gates, swing gates create an elegant statement for your home while providing an additional layer of safety and security for family and pets. The gates swing inward, so sufficient space is required to accommodate the proper function of a swing gate.
Single swing gates are easy to install in spaces that are no larger than four metres wide. Swing gates can be opened from your home or vehicle for extra security and peace of mind.
Knowing the dimensions and the approximate weight of the gate, the sturdiness of the post and the material the gate is made out of, is necessary in order to choose the correct automatic gate opener for your requirement.
One of our staff members can assist you in choosing the best sliding gate or swing gate solution for your home, call us on 07 3205 3002, we ship our automatic gate openers Australia wide.