Why the Dace Ultima slide gate opener is the perfect choice for DIY or the professional installer
DACE Ultima Series
The Ultima series doesn't just look great, it's feature packed with the latest advancements in gate automation. Whether you have a simple setup or a complex setup that requires advanced settings, the Ultima series is the right option for you. The Ultima Series is manufactured in South Africa and comes in two models, RT25/50 for residential properties (regular traffic) and HT18/36 for light commercial/residential properties (high traffic). Over the next few months BMGi will continue to discuss the many features available. Today we'll talk about speed.
Speed - Ultima RT25/50
Speed - Ultima RT25/50 is the fastest operator in its class with speeds up to 50m per minute. A 4m gate could be opened in just under 5 seconds making it ideal for gates on busy roads or when you need to close your gate before pets can escape. Safety beams are required to achieve max closing speed for safety.
Ultima Navigation Screen
If the speed of the ultima is too quick for your situation, you can use the large LCD screen and easy to use joystick to navigate your way to the 'Run Profile' setting which allows you to adjust your opening or closing speed. The Ultima series can have your gate opening at max speed up to 50m per minute and closing at 12m per minute for a safer speed. Both opening and closing speeds can be adjusted from 12m per minute up to 50m per minute.
No matter your speed preference, the Ultima Series has you covered.

DACE Ultima HT
Sliding Gate Motor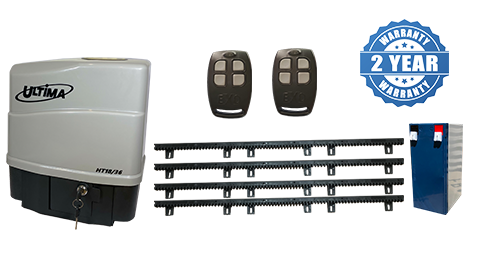 DACE Ultima RT
Sliding Gate Motor