Why the Dace Ultima is perfect for solar applications
The Ultima series of motors has been designed with solar application as a driving focus. When you decide on a solar powered gate opener, it's important to look for a motor kit with the following:
Energy efficient control board to ensure a long standby time during poor weather conditions.
Adequate deep cycle battery size to ensure the motor will still be operating during prolonged poor weather conditions.
Adequate solar panel size to ensure the battery is receiving enough charge.
Energy Saving Modes
The Ultima series has 3 energy saving modes which can be activated in the 'Energy Saving' icon through the easy to use joystick and large LCD screen. Light sleep mode, Medium sleep mode and Deep sleep mode can be selected. Deep sleep mode will give you up to 16 days of standby time when being powered by a fully charged 12v14ah battery.
Deep Cycle Battery
It's important to use a Deep cycle battery with any solar gate opener kit. A deep cycle battery handles consistent cycling (charging and discharging) which is constantly happening with all solar powered gate openers. BMGi uses and recommends a high quality 12v14ah deep cycle battery to provide reliable power.
Solar Panel Efficiency
BMGi only uses monocrystalline solar panels with any solar kit sold. Monocrystalline solar panels are more efficient, provide a long life span and have a high efficiency level during hot days. A 45 watt monocrystalline solar panel is included in our solar powered Ultima gate operator kit. BMGi recommends a minimum of a 40 watt solar panel due to the higher charging rate that solar units require.
When it comes to solar powered gate openers, the Ultima series has you covered.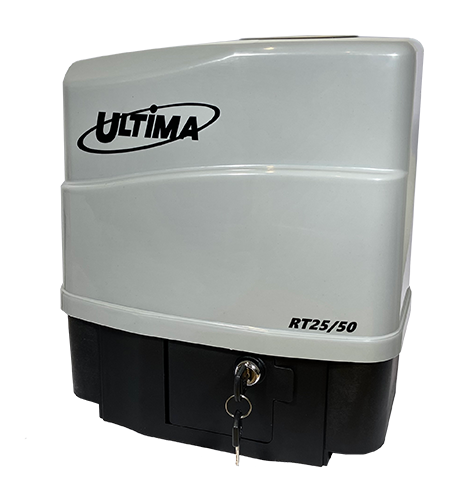 DACE Automatic Slide Motor

DACE Ultima HT
Sliding Gate Motor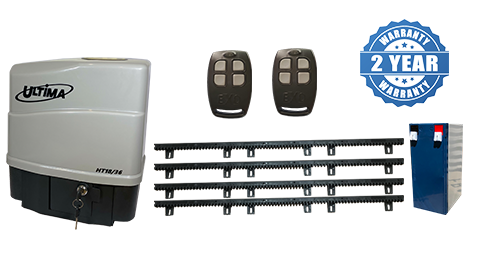 DACE Ultima RT
Sliding Gate Motor