The Ultimate Guide to Electric Sliding Gates: Enhancing Security and Convenience
In an ever-changing world where security is a top priority, homeowners and businesses alike are seeking advanced solutions to protect their properties. One such solution is the electric sliding gate—an automated entryway that offers a seamless combination of enhanced security and convenience. In this article, we will delve into the features, benefits, and installation considerations of electric sliding gates, helping you make an informed decision about this modern security option.
The Advantages of Electric Sliding Gates:
Enhanced Security:
Electric sliding gates act as a formidable physical barrier against unauthorized access. With sturdy construction and advanced locking mechanisms, they deter potential intruders and provide peace of mind.
Convenience:
Automation is a key advantage of electric sliding gates. With just a press of a button or a swipe on your smartphone, you can effortlessly open and close the gate, eliminating the need for manual operation.
Improved Property Aesthetics:
Electric sliding gates not only provide security but also enhance the visual appeal of your property. They come in various designs, materials, and finishes, allowing you to choose a gate that complements the architectural style of your home or business.
Cost Considerations for Electric Sliding Gates:
When considering electric sliding gates, cost considerations are crucial. Factors influencing the overall cost include the size and material of the gate, type of access control system, and professional installation. Larger gates and premium materials like wrought iron tend to be more expensive. Advanced access control options, such as biometric readers, can increase costs. Professional installation ensures proper alignment but adds to the budget. Ongoing maintenance and potential repairs should also be accounted for. It's important to balance the costs with the benefits of enhanced security and convenience offered by electric sliding gates to make a well-informed decision that aligns with your budget and specific needs.
Choosing the Right Electric Sliding Gate:
Gate Size and Weight:
Consider the dimensions and weight of the gate required for your property. Electric sliding gates are available in a range of sizes to accommodate both residential and commercial applications.
Material Selection:
Selecting the right material for your gate is crucial for both aesthetics and durability. Common options include steel, aluminum, and wrought iron. Each material has its own advantages, such as strength, corrosion resistance, and maintenance requirements.
Access Control Options:
Determine the access control method that best suits your needs. Remote controls, keypads, intercom systems, or even smartphone apps can be used to operate your electric sliding gate conveniently and securely.
Energy Efficiency of Electric Sliding Gate Systems
Energy efficiency is an important consideration when evaluating electric sliding gate systems. These systems are designed to operate efficiently, minimizing energy consumption while providing reliable functionality. The motor used in the gate system plays a key role in determining its energy efficiency. Opting for a high-quality motor with energy-saving features can significantly reduce power usage. Additionally, incorporating technologies such as variable speed drives or smart control systems can further enhance energy efficiency by optimizing motor performance based on gate requirements. By choosing energy-efficient components and implementing smart operational practices, electric sliding gate systems can minimize their environmental impact while maximizing their efficiency and functionality. This not only helps reduce energy costs but also aligns with sustainable practices in today's eco-conscious world.
Installation and Maintenance:
Professional Installation:
It is recommended to hire a professional installer with expertise in electric sliding gate systems. They will ensure proper installation, including gate alignment, motor integration, and electrical connections.
Routine Maintenance:
Regular maintenance is essential to keep your electric sliding gate in optimal condition. This includes lubricating moving parts, inspecting safety features, and checking for any wear and tear. A well-maintained gate will function smoothly and extend its lifespan.
Conclusion
Electric sliding gates offer a winning combination of security, convenience, and aesthetic appeal. By investing in an automated gate system, you can enhance the protection of your property while enjoying the ease of access that automation provides. Remember to consider factors such as gate size, material, and access control options when selecting the right electric sliding gate for your specific needs. With professional installation and routine maintenance, you can ensure the long-term performance and reliability of your electric sliding gate.
Check out BMGi's Automatic Gate Solutions below

DACE Ultima HT
Sliding Gate Motor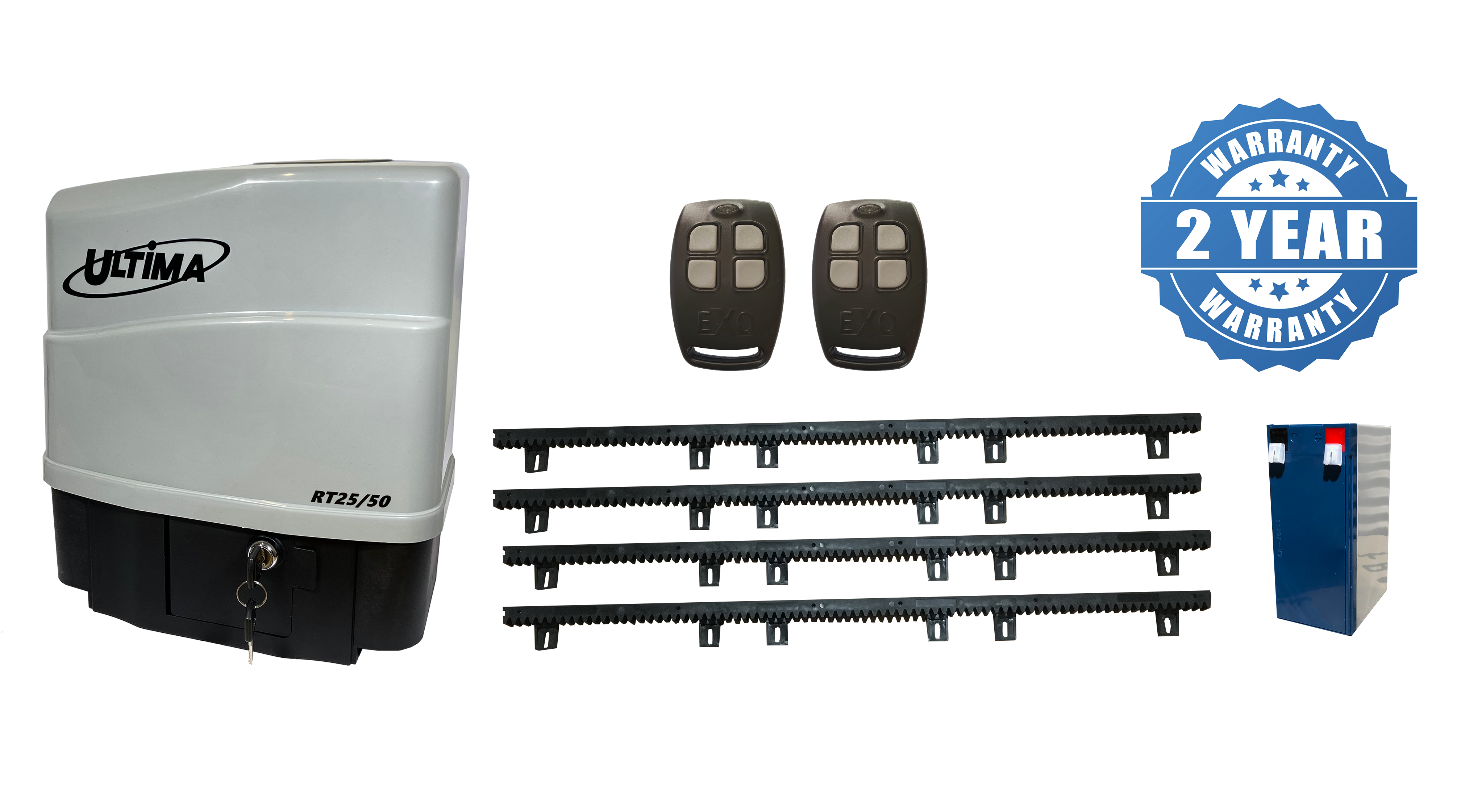 DACE Ultima RT
Sliding Gate Motor