What Are The Different Types Of Gate Automation?
How to select the best gate automation system for your gate, this article covers everything you need to know.
It explains how gate automation works, what gate automation systems are made up of and what the differences between the main types of gate automation are.
SWING GATE AUTOMATION
Articulated Arm Gate Motors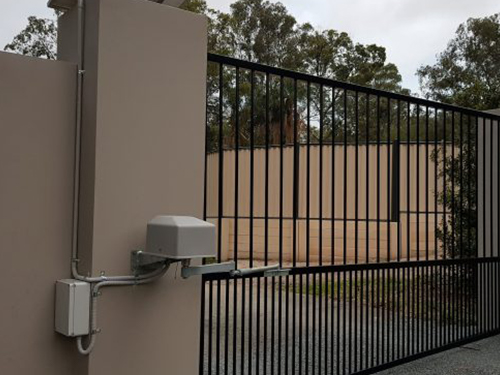 As articulated arm motors use a two-part arm with an 'elbow' joint to connect the motor to the gate, this arm protrudes from the motor. This means that there has to be room for the arm to move as the gate opens and closes.
This type of automatic gate opener is easier to install than other types thanks to the geometry of the arm system. They can be slightly more expensive than other gate motors.
Many homeowners like discrete gate automation systems and articulated motors can be more obvious when installed.
These type of gate motors are mounted on the inside of gates so they're not seen from the outside of closed gates.
All articulated arm gate operators are electric motors which can be either 240Vac or 24Vdc.
All 24V and some 240V versions have obstacle detection. This means that the gates stop moving and some even reverse when they come into contact with an object during operation.
Articulated arm gate automation systems can be the best choice where the gate motors are mounted on large gate piers or pillars.
Pros of articulated arm openers:
They can fit on to most gates, regardless of where their hinges are which makes them a great choice for gates where the hinges are placed awkwardly
Can be faster than underground or ram arm motors as the mechanism undergoes less travel than ram arms
Easy to install (although, as with most gate motors, some welding will be required) and can be mounted on to wide pillars and columns
Cons of articulated arm openers:
Can create a trapping point during operation; this should be taken into consideration especially if you have young children who can access the back of the gate during its operation
Not as attractive to look at compared to other types of electric gate motors due to the arm mechanism
Cannot be used on closed boarded gates due to the 'sail effect' that creates strong resistance on the gates in windy conditions
You need a significant amount of space to mount the gate motor so they are mainly suitable on wide columns or pillars
Ram and Linear Automatic Gate Motors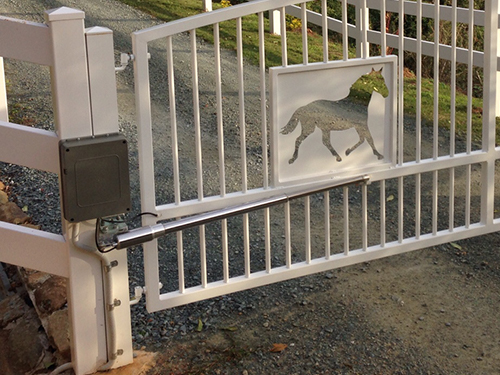 Ram or Linear is the term used to refer to the straight line arms that operate either by a worm screw, or piston method to extend the arm and pivot from a hinge mounted to the post or column.
Ram gate motors push and pull a piston mounted on the gate.
Linear screw motors use an electric motor to rotate the gate mounting along a threaded shaft.
Both types are slim and don't need a lot of space to operate in. In order to use a ram arm, the correct geometry needs to be achieved in order to allow the rams to sit flat against the gate and column.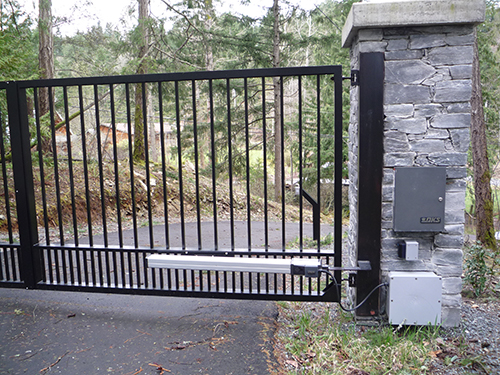 The setup of the ram and linear motors makes the motor mounting on the gate closer to the gate's hinges. These swing gate motors are also relatively simple to install. That makes them a popular option with installers and homeowners who are looking for a straight forward way to automate their swing gates. The ability to mount them directly to your posts or columns and then to the back of the gate makes the installation easy, with minimal welding required.
Both versions have a control that provides obstacle detection for safer operation. The obstacle detection is provided by the control box getting feedback from the motors.
One of the draws for many customers is that they're a cost-effective option, making them equally accessible for homeowners and businesses alike. They're also easier to maintain, as they don't require the same specialist tools or in-depth expertise as underground gate motors, for example. This means that not only are they often cheaper to buy in the short term, but they're quicker and more economical to keep in good condition in the long run too.
Underground Gate Openers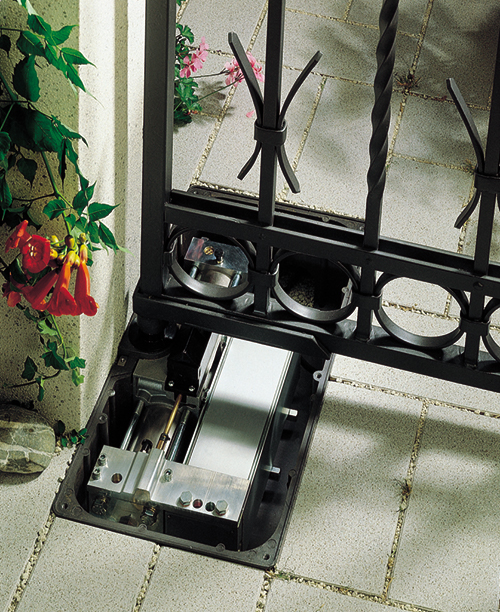 Some home owners choose underground gate motors because they are very discrete.
This is because the gate motors are hidden under the hinge end of each swing gate.
A carefully positioned hole must be dug to house each motor's control box.
Sufficient drainage for underground motors is needed to prevent them from sitting in water.
Underground gate motors don't need a lot of space to operate in and they can open gates to 180 degrees with an optional chain drive system.
Normally, underground gate automation is the most expensive solution but they are almost invisible.
Underground motors can be manually released from outside the gate.
These motors can be either hydraulic or electromechanical in operation.
A separate control box is required and 240Vac and 24Vdc versions with obstacle detection are available.
Underground motor installation is not simple and they should always be installed by professional.
Underground gate automation could be the best style of gate automation for you if you want discrete, almost invisible gate automation and you have the budget for this more expensive option.
Pros of underground gate openers:
Nearly Invisible
Quiet
Can move all gate types
Easy to manually release
Cons of underground gate openers:
Can require lots of extra drainage
Not ideal at the bottom of a slope
Hard to retro-fit and requires welding
Not always possible to dig down deep enough
Expensive
SLIDING GATE AUTOMATION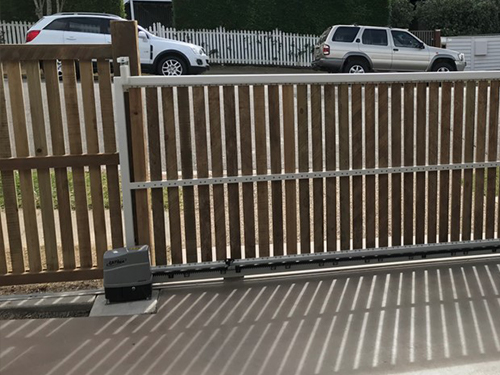 Ram or Linear is the term used to re
Sliding gate automation usually only includes one gate. This single slide gate is wider than the width of your driveway and slides to one side of the drive opening on wheels that run along a track.
A single gate motor is mounted to one side of the driveway entrance. The motor is positioned so that the toothed racking attached to the full length of the rear of the gate meshes to the cog of the motor, creating a rack and pinion drive system. Therefore, as the motor turns, the cog rotates in the rack and draws the gate along.
A sliding gate opens along a length of straight gate track more than twice the width of the driveway. Tracks are either set in to the ground or bolted on. This starts at the pillar or gate post on one side of the opening and crosses the drive past the opposite pillar. The track is long enough for the gate to slide along to completely clear the drive entrance.
Advantages of sliding gates
Great when you're short on space
Highly secure and effective intruder deterrent
More cost-effective compared to cantilever gates
Self-locking motors

E8 500
Auto Gate Opener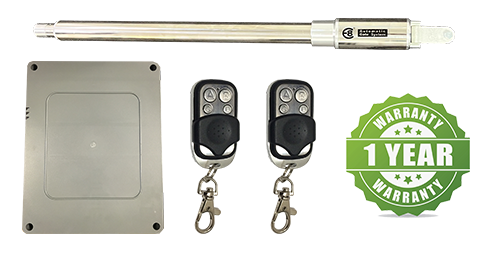 TMT 400LLS
Auto Gate Opener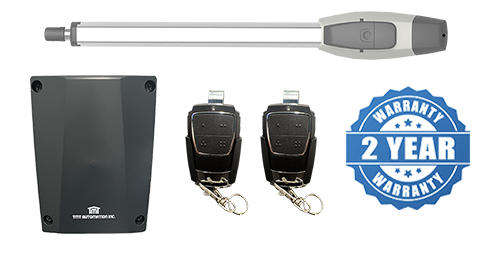 DACE Ultima HT
Sliding Gate Motor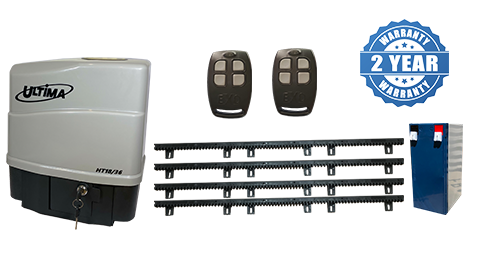 DACE Ultima RT
Sliding Gate Motor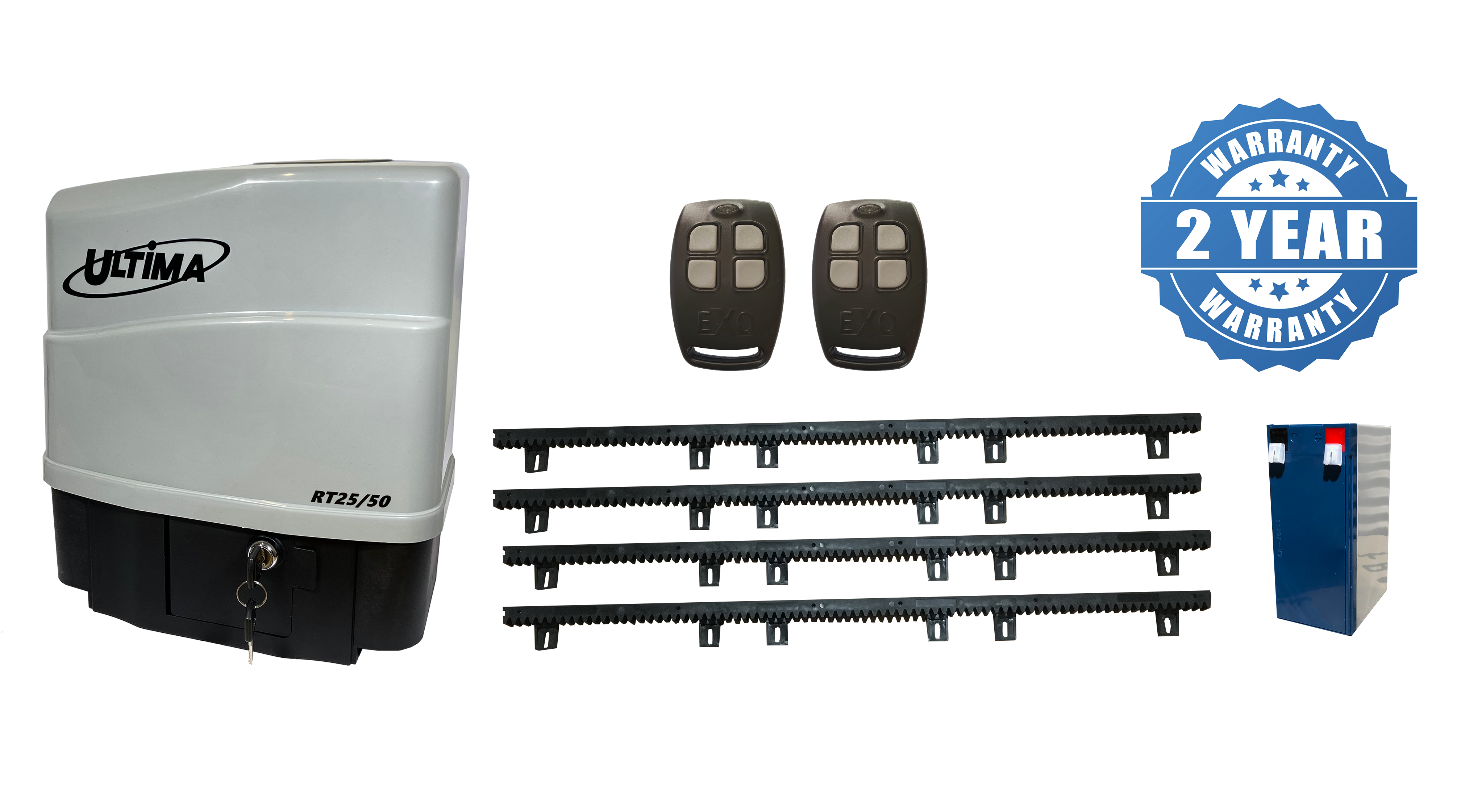 DC400
Sliding Gate Motor